Description
Looking for Legnoply Sample Pack Requests?
Greetings laser-cutting legends, handicraft heroes and praiseworthy pyrographers!
Please welcome Legnoply, Plyco's new collection of stunning timber veneers pressed onto an FSC Certified, engineered Italian Poplar core. Combining E0 adhesives with an engineered Poplar core, Legnoply offers increased stability and a lighter weight alternative to our famous Micropanel and Laserply collections.
This range also features exotic timber veneers not found on any other ready-made Plyco panels.
Manufactured in Plyco's Melbourne production facility, this wonderful range delivers a finished size of 600 x 300 x 3mm. Offering a level of consistency in thickness above that of our Laserply products, Legnoply is tailored for laser cutting and engraving applications where consistent thickness is paramount.

Derived from the Italian word for wood ("legno"), Legnoply's name is a nod to the North Italian poplar plantations from which the core timber is sourced. Download our Legnoply product brochure for more information.
Adhesives: E0
Dimensions: 600 x 300 x 3mm
Key benefits: Precise thickness, light weight and unique veneers.
Applications: Laser cutting, engraving, pyrography and handicrafts.
Veneers: American Cherry, Queensland Coachwood, Queensland Cherry, Canadian Rock Maple, Victorian Ash and European White Ash.
Related Products: Legnoply is also available in pre-packaged, six pack bundles that ship next day.

Want your order cut to size? Fancy some custom edging? Plyco can do it all!
To speed up the process of delivering a custom quote, either complete our cut to size form or submit both the products and cuts/edging required via our contact page. 
Note: completing an online order before submitting a seperate cutting/edging request will result in delayed order fulfilment.
To offer the cheapest price, we use calculated rates at checkout based on your order's destination, weight and dimensions.
Plyco offers $60 flat rate "Local Delivery" to select Victorian regions and a free pickup service from Plyco Fairfield. Please read our disclaimer for residential local deliveries using Plyco trucks.
We also offer free shipping of Craft Pack Bundles for all orders over $200 ($500 for TAS). Offer unavailable in NT and excludes 12mm Laserply Craft Packs.
If rates for your destination aren't displaying at checkout, contact our sales team at info@plyco.com.au for a manual rate. Read more about our Australian and international shipping options.
Customer Reviews
Write a Review
Ask a Question
Filter Reviews:
service
Plyco
contact
quality material
purchase cuts
client
request
Legnoply
thickness
finish
30/11/2023
Glenn G.

Australia
Good Value
Good quality for the price.
26/11/2023
Fiona G.

Australia
Best material to work with
Love all of the Legnoply! Great colors, great quality, highly recommend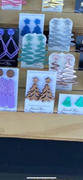 Hi Fiona, Thank you for the stellar review. It's wonderful to see that you're loving all the colours and quality of our Legnoply! As you've found, we strive to provide top-notch plywood perfect for all sorts of projects. A big thank you for your high recommendation. We can't wait to see our Legnoply come to life in your woodworking project. Best of luck with it! Cheers, Plyco
25/11/2023
Angela W.

Australia
4mm birch laserply
always a great engrave, occasionally glue spots which make the cutting difficult but love the feel, look and engrave
Hi Angela, We're absolutely stoked to hear that you're loving the look, feel and engraving of our Birch Laserply! It's heart-warming to know that our products are being put to such good use. We're sorry to hear about the occasional glue spots, and we appreciate you letting us know as it helps us work on our product quality. We'll be reaching out to you via email to look into this further. In the meantime, we wish you the very best with your woodworking project and look forward to providing more Birch Laserply for your creative endeavours in the future. Cheers, Plyco
22/11/2023
Josh W.

Australia
Blackwood is great
Etches nicely, and pairs nicely with the any of the lighter plys.
Hi there Josh, Thanks heaps for taking the time to leave a review, and a 5 star one at that! We're stoked that you find our Blackwood Laserply a good match for your projects. It's designed to meet just those needs you have mentioned—etching beautifully and pairing well with lighter plys. Your feedback certainly brightens our day! Wishing you all the best with your ongoing woodworking endeavours. Kind regards, Plyco
21/11/2023
Terry W.

Australia
Craft Pack
Great product and quick delivery. I will certainly be back for more as I have other projects on the go. I have shown the craft pack to my mate Chris and he intends to get some too. Cheers, Terry
Hi Terry, Thanks for the fantastic review mate. We're super stoked to hear you loved the Laserply Craft Pack and we appreciate you sharing the product with your mate, Chris! It's top notch for woodworking projects, and we're excited to see you both use Plyco's products. You'll definitely find all your future projects a breeze with the Laserply Craft Pack. Thank you again Terry for choosing Plyco and we really look forward to supporting your future projects. Best of luck with your woodworking journey! Cheers, Plyco