Description
A 1200mm x 600mm product suitable for a range of applications where a high quality aesthetic finish is required. Hoop Pine is manufactured from sustainable and renewable log plantations in South East Queensland, Australia and is 100 per cent FSC certified. With remarkable surface finishing capacity and manufactured specifically with a 'C bond' interior glue, Hoop Pine is ideal for laser cutting and engraving in addition to many other interior applications.
In addition to a 1200 x 600mm standard Laser Plywood Panel, we also offer custom sheet sizes tailored for the bed size of your laser cutting machinery. Contact us with the details of your product and requirements for a tailored quote.
Face Grade: A Face / C Back
Bond: C bond (Interior)
Standard: AS/NZS 2271
Applications: Furniture, non-structural interior cladding, wall and ceiling lining, laser cutting and engraving, door skins, acoustic panels, cake toppers, jewellery, signage and plaques.
Plyco also offers hoop pine products in: AC Hoop Pine, BB Hoop Pine Plywood, Hoop Pine AA Marine.
Want your order cut to size? Fancy some custom edging? Plyco can do it all!
To speed up the process of delivering a custom quote, either complete our cut to size form or submit both the products and cuts/edging required via our contact page. 
Note: completing an online order before submitting a seperate cutting/edging request will result in delayed order fulfilment.
To offer the cheapest price, we use calculated rates at checkout based on your order's destination, weight and dimensions.
Plyco offers $60 flat rate "Local Delivery" to select Victorian regions and a free pickup service from Plyco Fairfield. Please read our disclaimer for residential local deliveries using Plyco trucks.
We also offer free shipping of Craft Pack Bundles for all orders over $200 ($500 for TAS). Offer unavailable in NT and excludes 12mm Laserply Craft Packs.
If rates for your destination aren't displaying at checkout, contact our sales team at info@plyco.com.au for a manual rate. Read more about our Australian and international shipping options.
Customer Reviews
Write a Review
Ask a Question
Filter Reviews:
cuts
finish
quality
edges
CO2 laser
base
honey
charring
hoop pine cuts
Laser business
05/12/2023
Hayley B.

Australia
Hoop Pine
Cuts wonderfully!!
03/12/2023
David G.

Australia
Does a great job
Very happy with the wood I purchased and have made a number of projects and all came out very well. Cuts and shades very very good.
30/11/2023
Glenn G.

Australia
Good Value
Good quality for the price.
26/11/2023
Fiona G.

Australia
Best material to work with
Love all of the Legnoply! Great colors, great quality, highly recommend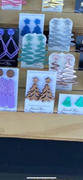 Hi Fiona, Thank you for the stellar review. It's wonderful to see that you're loving all the colours and quality of our Legnoply! As you've found, we strive to provide top-notch plywood perfect for all sorts of projects. A big thank you for your high recommendation. We can't wait to see our Legnoply come to life in your woodworking project. Best of luck with it! Cheers, Plyco
25/11/2023
Angela W.

Australia
4mm birch laserply
always a great engrave, occasionally glue spots which make the cutting difficult but love the feel, look and engrave
Hi Angela, We're absolutely stoked to hear that you're loving the look, feel and engraving of our Birch Laserply! It's heart-warming to know that our products are being put to such good use. We're sorry to hear about the occasional glue spots, and we appreciate you letting us know as it helps us work on our product quality. We'll be reaching out to you via email to look into this further. In the meantime, we wish you the very best with your woodworking project and look forward to providing more Birch Laserply for your creative endeavours in the future. Cheers, Plyco