Description
The fine, dense grain of Carbonised Bamboo Laserply makes it an ideal product for laser cutting, etching and engraving and will machine cleanly at high speed. This Bamboo product contains formaldehyde free glue adhesives and is also available in a Natural Coloured Appearance.
The colouration of Carbonised Bamboo is achieved via an additional manufacturing process akin to the caramelisation of sugar in which exposure to high temperatures browns the starch within the raw materials.
In addition to a 1200 x 600mm standard Laser Plywood Panel, we also offer custom sheet sizes tailored for the bed size of your laser cutting machinery. Contact Us with the details of your product and requirements for a tailored quote.
Grain: Narrow
Colour: Carbonised
Applications: cake toppers, key tags, invitations, jewellery, business cards, bookmarks, plaques, signage and much more.
Shipping
To offer you the cheapest available price, we use calculated rates at checkout based on your order's destination, weight and dimensions.
We also offer $60 flat rate shipping to select Victorian regions and a free pickup service from Plyco Fairfield.
If rates for your destination aren't displaying at checkout, contact our sales team at info@plyco.com.au for a manual rate. Read more about our Australian and international shipping options.
Cutting & Edging
Want your order cut to size? Fancy some custom edging? Plyco can do it all!
To speed up the process of delivering a custom quote, either complete our cut to size form or submit both the products and cuts/edging required via our contact page. 
Note: completing an online order before submitting a seperate cutting/edging request will result in delayed order fulfilment.
Payment & Security
Your payment information is processed securely. We do not store credit card details nor have access to your credit card information.
Customer Reviews
Write a Review
Ask a Question
Filter Reviews:
laser cuts
orders
dents
Great
quality wood product
fact
thickness
material
service
03/05/2022
Darren M.

Australia
Good quality
Laser cuts and engraves smoothly
Thanks for the brilliant review of our Bamboo Laserply and for being a loyal Plyco customer Darren!
12/04/2022
Ken M.

Australia
Great Service
Good product, Great service. Arrived well packaged and protected. No dents or knocks possible! Love that. Fast service as well. Good to know I can rely on that, when I have urgent orders.
Thanks for both the brilliant review and for being a regular Laserply customer Ken! Words like these always bring a smile to our face here in the Plyco offices
11/04/2022
Michelle W.

Australia
Fantastic quality every time and cuts with ease on my laser.
Great quality wood product.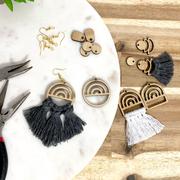 Thank you for the brilliant review of our Carbonised Bamboo Laserply Michelle! It's always always remarkable to see the creations our community make with the raw products ☺️ If you'd like to be featured on our social media feed, please reply with your social media handles and we can credit you in a future post!
11/04/2022
Fatma H.

Australia
quality is absolutely amazing
laser bamboo - carbonised
Thanks for the brilliant review of our Carbonised Bamboo Laserply Fatma, you've made our day here in the office!
07/04/2022
marcus b.

Australia
Bamboo Laserply
I love the fact that the material is clean and a consistant thickness throughout. I will be ordering more
Thanks for the fantastic review of our Bamboo Laserply Marcus, we look forward to assisting with your next project!