Description
A specialty laser grade plywood product made in house at our manufacturing plant in Fairfield, this product is proudly Australian sourced and manufactured. Created using carefully selected NSW Jarrah veneers and formaldehyde free glue adhesives, this product is highly suitable for laser cutting, etching and engraving purposes.
In addition to a 1200 x 600mm standard Laser Plywood Panel, we also offer custom sheet sizes tailored for the bed size of your laser cutting machinery. Contact Us with the details of your product and requirements for a tailored quote.
Appearance: A Face / B Back
Glue: C Bond - Interior / Formaldehyde free
Applications: 3D models, laser cutting, etching and engraving, signage, jewellery and much more.
Shipping
To offer you the cheapest available price, we use calculated rates at checkout based on your order's destination, weight and dimensions.
We also offer $60 flat rate shipping to select Victorian regions and a free pickup service from Plyco Fairfield.
If rates for your destination aren't displaying at checkout, contact our sales team at info@plyco.com.au for a manual rate. Read more about our Australian and international shipping options.
Cutting & Edging
Want your order cut to size? Fancy some custom edging? Plyco can do it all!
To speed up the process of delivering a custom quote, either complete our cut to size form or submit both the products and cuts/edging required via our contact page. 
Note: completing an online order before submitting a seperate cutting/edging request will result in delayed order fulfilment.
Payment & Security
Your payment information is processed securely. We do not store credit card details nor have access to your credit card information.
Customer Reviews
Write a Review
Ask a Question
Filter Reviews:
Customer service
work
quality ply
delivery
21/06/2022
Aaron W.

Australia
Great product and service
Great quality ply, excellent customer service & delivery, keep up the good work plyco!
Hey Aaron, thanks so much for the lovely words and for taking the time to leave a review. Good luck on all your Plywood endeavours and we'll see you soon.
06/06/2022
Caroline A.

Australia
1.8mm Jarrah for earrings
One of my favourite materials to work with so far. Cuts like butter and the earrings look beautiful.
Hey Caroline, thanks for taking the time to leave a review. We're delighted to hear the great feedback on the Jarrah and sure the earrings are excellent!
12/05/2022
Daniel B.

Australia
Jarrah Wood
I used to stain my own wood but I decided to give Jarrah a go and is just sensational. I'm really happy with this business. Thanks to Plyco, Craftyroo can provide excellent quality in all its wooden products.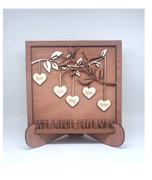 Hey Daniel, thanks so much for taking the time to leave such lovely feedback and attaching a photo of your terrific work. Good luck with your future Jarrah projects and thanks again Craftyroo team!
29/12/2021
Anne W.

Australia
Lazer plywood - Jarrah 1.8mm
I ordered this online. Customer service was proactive and relevant. The ply cut smoothly with some intricate detailing. I recommend plyco.
Great colour
Beautiful dark brown /reddish colour. The veneer can sometimes be a bit flaky. Pieces will sometimes come off if you use tape.
Thanks for the feedback Aaron! The nature of the Jarrah veneer is that it can be brittle when adhesives are applied to the surface. For best results, we recommend products in our Laserply range are reserved for laser cutting and engraving applications.