Description
This product possesses very similar characteristics to the CD Structural plywood, as it is also a Radiata Pine species, available in 'C/D' face grades and contains an A-Bond glue line making it suitable for exterior applications. While this product has not been structurally rated, it can be used for many general purposes when a stress grading is not required.
Face Grade: C Front / D Back
Bond: A-Bond
Applications: Furniture, general building, DIY and handyman applications, cladding and wall/ceiling lining.
Shipping
To offer you the cheapest available price, we use calculated rates at checkout based on your order's destination, weight and dimensions.
We also offer $60 flat rate shipping to select Victorian regions and a free pickup service from Plyco Fairfield.
If rates for your destination aren't displaying at checkout, contact our sales team at info@plyco.com.au for a manual rate. Read more about our Australian and international shipping options.
Cutting & Edging
Want your order cut to size? Fancy some custom edging? Plyco can do it all!
To speed up the process of delivering a custom quote, either complete our cut to size form or submit both the products and cuts/edging required via our contact page. 
Note: completing an online order before submitting a seperate cutting/edging request will result in delayed order fulfilment.
Payment & Security
Your payment information is processed securely. We do not store credit card details nor have access to your credit card information.
Customer Reviews
Write a Review
Ask a Question
Filter Reviews:
plywood
service
jobs
shed
buying experience
Crate
Pick-up
comms
purpose
delivery
13/07/2022
Vu D.

Australia
On time great delivery
Make jobs easy!
Thanks for the great words Vu! We are glad to hear the delivery of your CD Non Structural Ply was on time and up to standard.
12/05/2022
Tony S.

Australia
Great service as always
Cd non structural ply
Thanks for the great review Tony, really appreciate it and glad our CD Non Structural Ply was up to scratch!
26/04/2022
David M.

Australia
CD Non Structural Plywood
Very happy with this plywood. Lined my shed with it and it come up great. Fast delivery and all round good service.
Cheers for the brilliant review of our CD Non Structural Plywood David! We'd love to see any images of your DIY project, the shed sounds like it came up a real treat.
24/04/2022
ilir s.

Australia
Good quality plywood much better then what you get from a certain green hardware store that's for sure at a competitive price service at the Fairfield warehouse was great.
Good plywood good service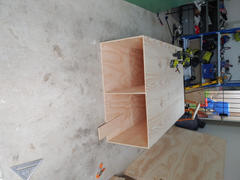 Thank you for the brilliant review of our CD Non Structural and wonderful photo Ilir! You've made our day in the office with your kind words If you'd like us to share this image along with any other work in progress/completed images, reply back to this email with any attachments and your Instagram handle. We'll schedule them in for a future post!
08/04/2022
CAROLINE M.

Australia
Perfect for what we needed !
Perfect for what we needed !
Thanks for taking the time to leave a review of our CD Non Structural Ply Caroline!