Description
Please note: colours displayed on your screen may differ from those of the actual sample. This veneer is natural wood so its appearance may vary and have natural features.
Plyco's Wide Leaf Veneer sheets offer an unparalleled level of natural beauty and elegance. Made from real wood, these pre-glued veneer leaf sheets showcase the intricate patterns and colours of each unique tree species. The wide leaf format of these veneers allows for larger, more consistent grain patterns that are sure to make a statement in any project.
Available in a variety of wood species, including oak, walnut, maple, and cherry, our Wide Leaf Veneer sheets are perfect for custom veneering applications from interior design elements to custom furniture and cabinetry. Each sheet is carefully cut to ensure that the grain patterns are consistent from panel to panel, giving your project a professional, cohesive look.
At Plyco, we take great care in sourcing only the highest quality veneers from around the world. Our veneers are meticulously crafted to ensure a smooth, consistent finish that highlights the natural beauty of the wood. With our wide selection of wood species and sizes, you're sure to find the perfect veneer sheet for your next project.
So why settle for synthetic materials when you can have the real thing? Choose Plyco's Wide Leaf Veneer sheets for a natural and sophisticated touch to your next project.

Leaf size: 2440 x 305mm
Thickness: 0.6mm
Adhesive: Pre-glued

This product features dried contact glue. For installation, line up the back of the veneer with the timber surface you're looking to cover and apply heat onto the veneer face. Most people opt for an iron to melt the glue into the wood below, though any form of heat gun will suffice. 
After the glue has melted, apply pressure to the veneers to ensure the best adhesion, usually just placing something heavy on top of the boards. After the glue has set, enjoy a freshly veneered sheet!
To offer the cheapest price, we use calculated rates at checkout based on your order's destination, weight and dimensions.
Plyco offers $60 flat rate "Local Delivery" to select Victorian regions and a free pickup service from Plyco Fairfield. Please read our disclaimer for residential local deliveries using Plyco trucks.
We also offer free shipping of Craft Pack Bundles for all orders over $200 ($500 for TAS). Offer unavailable in NT and excludes 12mm Laserply Craft Packs.
If rates for your destination aren't displaying at checkout, contact our sales team at info@plyco.com.au for a manual rate. Read more about our Australian and international shipping options.
Want your order cut to size? Fancy some custom edging? Plyco can do it all!
To speed up the process of delivering a custom quote, either complete our cut to size form or submit both the products and cuts/edging required via our contact page. 
Note: completing an online order before submitting a seperate cutting/edging request will result in delayed order fulfilment.
Customer Reviews
Write a Review
Ask a Question
Filter Reviews:
shrinkage
buffet
test
oak veneer
Tasmanian
overlap
patience
contact cement
entertainment cabinet
problem
27/06/2023
Jeremy K.

Australia
Wide leaf veneer
Excellent quality
Great news, Jeremy! We're thrilled to hear that you find our Wide Leaf Veneer of excellent quality. We hope it will add a touch of richness to your woodworking project. Best of luck with your endeavour!
21/10/2022
Caralyne B.

Australia
Beautiful veneer
I purchased Tasmanian oak veneer to cover some old veneer that I'd sanded through on a buffet I am restoring. It blends in perfectly with the existing timer and the glue is really really strong. You have to watch the shrinkage, so do a test first, but otherwise its pretty easy to use and I'm super happy with the result.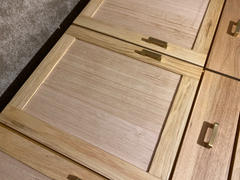 Hello Caralyne, thank you for your kind words! We're so glad that you are satisfied with our Wide Leaf Veneer ply for your project!
26/08/2022
Alan C.

Australia
Easy to apply
Bought veneers for an entertainment cabinet. They are super easy to glue on, but I almost reckon that it would be easier still just using contact cement and a bit of patience. The join was a problem, 1.5mm overlap was too much. Maybe 0.5mm would be enough in winter when it's not humid.
Hi Alan! Thanks for the great review for our Wide Leaf Veneer. I will pass it on to our internal team for them into. Thanks again!
Good product, pricy delivery.
Very happy with the iron on veneer however, in this time of social isolation, I felt the delivery charge for a small item was too high.
Hi David, We appreciate your feedback in regards to delivery pricing. While we do understand the unique challenges that have been thrown up recently, unfortunately, we need to charge those prices for delivery. in order to ensure Plyco is able to still operate at this level. We have implemented a number of brand new measures over the past few months to fully comply with social distancing guidelines at our stores, so you're always welcome to come down and pick up smaller orders if you feel comfortable doing so.